The Penis – Does Size or Shape Matter?
The penis is the male external genitalia that consist of nerves, fibrous tissues, blood vessels, and three parallel chambers of spongy tissues. The two larger chambers known as the corpora cavernosa lie side by side above the smaller chamber called the corpus spongiosum.
Photo Gallery of Uncircumcised Men
Photo Gallery of Uncircumcised Celebrities

Corpora cavernosa are rich in blood vessels and become engorge with blood during sexual arousal causing penile erection. Corpus spongiosum lie between the two larger chambers contains the urethra for releasing urine and semen. Large numbers of muscles are present at the base of penis which helps to eject semen and urine out of the body.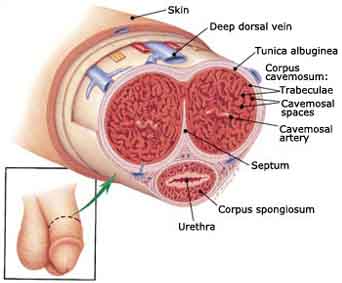 The flow of blood in and out of the corpora cavernosa is control by arteries and veins. During sexual arousal, arteries that supply blood into the corpora cavernosa open up to increase blood flow into the chamber and the veins become constricted preventing blood flow out of the chamber causing penile erection.
During flaccid state, arteries that supply blood into the corpora cavernosa closes which reduces blood flow into the chamber and the veins open up causing blood flow out of the chamber and penile become flaccid.
The penis is a sex organ and a reproductive organ. The only function is sexual arousal and passage for releasing urine and semen. The external part of the penile excluding the head is called the shaft and the smooth head is called the glans. The penile shaft is covered by hairless loose skin known as foreskin that also covers the glans. In some men the foreskin covered the entire glans and in others only portion of the glans is covered.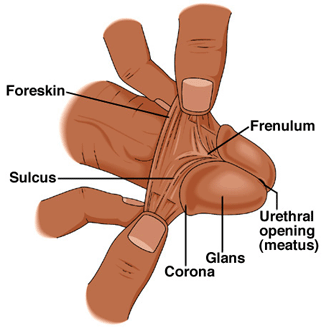 In most men the foreskin can be retracted to expose the glans and in some men the foreskin are removed at birth with surgical procedures known as circumcision. Male circumcision is mainly practiced as part of the cultural or religious beliefs. Male circumcision may involve removing part of the foreskin or the entire foreskin maybe completely removed.
The glans has large number of nerves ending and is highly sensitive to touch. There are two specific locations on the glans that are highly responsive to stimulation. One area is known as the corona where the glans rises from the shaft and the other is known as the frenulum which is a highly sensitive skin that connects the glans to the shaft on the underside.
Most men enjoy stimulating the two areas of penis during masturbation or sexual activity. Some may prefer stimulating the glans with foreskin covering and others may prefer direct stimulation of the glans.
Smegma can accumulate under the foreskin and collect around the glans that may cause pain during sexual arousal. Smegma is the combination of genital secretions, skin cells, and bacteria that accumulate in moist areas of the glans of both male and female genitalia. You can clean the smegma by retracting the foreskin and wash the glans gently with soap and water on daily basis to prevent the buildup of smegma.

Return from Penis to Male Sexual Anatomy

Return to Homepage Self Help Sexuality