How to Straighten Bent Penis Naturally



Bent penis also known as peyronies disease is a disorder that causes pain and penile curvature during erection.  Some men are born with curve penis which is a normal condition and is not associated with peyronies disease.  Peyronies disease do not cause penis to bend when flaccid but only during erection.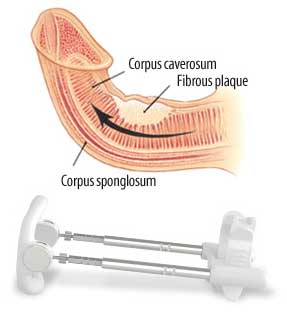 Most men with bent penis are able to achieve erection and engage in sexual intercourse.  However, peyronies disease can cause painful erection and painful intercourse.  For some men achieving erection with peyronies disease can be difficult and may suffer from erectile dysfunction.  Some men may feel insecure about their penis size as the result of penile curvature that causes erect penis to appear small.
There are number of treatments that claim to treat curve penis and these include oral medications, penile injections, extracorporeal shockwave therapy, radiation therapy, and surgery.  Most of these treatments are unclear in terms of effectiveness and there are not enough data to back up the claim.  Some of these treatments can be more dangerous than others with high risk of complications.  There are no known treatments that are effective in treating bent penis safely. 
However, based on the literature published in the National Center for Biotechnology Information (NCBI) article, selected cases of peyronies disease can benefit from the use of traction therapy.  

Traction therapy is safe and can be used by all patients with very low risk of complication.  Traction therapy treatment is a slow and steady process and it can take several months or years for treatment to be successful.  

Traction therapy or traction method can straighten bent penis naturally and extend penis length at the same time.  Traction method is non-surgical procedure and is the only technique that works by stretching the flaccid penis to correct penile curvature and extend penis length.

Wendy Hurn, Urology Specialist Practitioner at the Bristol Royal Infirmary in the United Kingdom published a study based on 22 men between the age of 18 and 78 who suffered from peyronies disease.  Hurn conducted the research to verify the efficacy of penile stretching device.

The men were divided into two groups (group A & group B).  Men in group A have stretched penis length less than 12.5 cm.  Men in group B have stretched penis length more than 12.5 cm. 

Men in both groups put on penile stretching device that had to be worn 5 hours daily for the period of 3 months.  At the end of the study, Hurn concluded average stretched penis length increased by 0.8 to 2.3 cm which indicates increase penile length is also the result of decrease in penile curvature.  No side effects were reported among the subjects.

Did you know, when your penis is straighter it will look longer?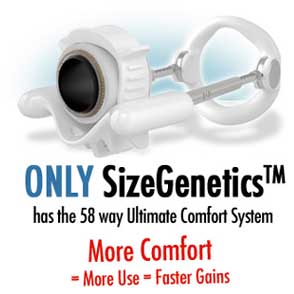 SizeGenetics is the only company that focuses strongly on comfort technology because they believed in good user experience.  When traction device feels comfortable you can wear it for longer period and achieve successful results.  When you visit the site you will notice they mentioned comfort very frequently because they know how important this is to achieve successful results.

SizeGenetics had been in this market since 1995 and was the original creator of male traction device.  Traction device was originally designed to help men straighten bent penis naturally and have also help thousands of men extend their penis length.  Read honest review here why you should and should not use SizeGenetics.

There are number of companies on the market selling cheap traction devices that are uncomfortable and don't really work.  Cheap and uncomfortable device don't really work simply because the device is of low quality and not being tested properly.  When the device is uncomfortable you can't wear it for long period to achieve successful results.
Return from Bent Penis to Sexual Problems

Return to Homepage Self Help Sexuality